Just finished Zora Neale Hurston's Barracoon. It is a series of interviews with Cudjo Lewis who continued to answer to his original name Kossula . He tells his story of surviving a massacre by the people of Dahomey, to the enslavement to freedom and the foundation of AfricaTown now called Plateau, Alabama.
She says nothing. She allows Kossula to tell his story when he wants to tell it. And just like Uncle Tom's Cabin or Gone With The Wind, she writes in Southern Negro Dialect, you can call it. But he I very clear and Lucid for 82. People of the town would even come to him to ask for a parable. To tell a story with a moral or some kind of deeper meaning. Something we Africans have not left behind. This is why we write. To leave some part of ourselves behind. To be discovered after death.
It's a wonderful read and quick, but some parts as we have been told was plagiarized from another book. And that Hurston may have used some imagination when writing parts of the story. Zora Neale Hurston, may have been searching for something that I think all of we African American Writers search for. Freedom. It takes a lot to free yourself of many things in order to write a story. To create a narrative.
Too many times African people, especially we here in the United States, will hold on to our creative peoples to tightly and expects somethings that we really shouldn't expect. We hold on so tight we could suffocate the writer, or singer, or musician. Africans in the diaspora have tremendous abandonment issues. This is absolutely present in Kossula's narrative. He surviving a harrowing massacre and then outliving all his children, who violently. He consistently talks about being lonely. But he obviously sojourned on to 82.
We now have to ask how did those Negroes come through that. To be stolen from all that they knew and sold and barter. Beaten into submission. Given new names and know it is not their name. Women forced to have s*x without permission. Give birth to children forced upon them. And of course most of you will say it was God and Jesus. Understand Those Africans had no concept of that. Kossula himself, ignorant to European thought, "didn't know God had a son". That may have been the first trick. He even said he had learn a church song, a Christian song. The words were on his lips, but not in his heart. More of what Zora Neale Hurston may have been looking for.
It is time we Negroes get honest. Jesus gave us nothing except a free boat ride. In fact Jesus stole everything we had. Stole our language, stole our life ways. Stole our mode of dress, even stole the respect we had for each other. Kossula did say that the people of Dahomey, raided his village with guns from Europeans. As we know guns are still made in white countries. As far back as the 18th century Europeans writers have written about how European countries turn one tribe against another on the continent. All of this theft and mayhem; when does any of you suppose Europeans got the permission to do such things. They couldn't have done it on their own. They got permission from God and Jesus absolved them of their crimes.
I suggest read Barracoon. Read how Kossula longed from African soil. How he wanted to go back, even asking his ex-Master how much it would cost to go back. This is probably what we are searching for. More romantic than real, but we are looking to get back to a Communal Africa, with the belief that it will free us of European crimes. Jesus freed them, but till this very day they throw it all on us.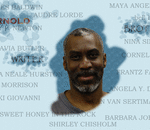 Posted By: Arnold Pettway
Tuesday, September 18th 2018 at 8:30PM
You can also
click here to view all posts by this author...