By Min. Kenneth R. Jenkins
They have this law in Florida that doesn't really makes any sense to me and I guess I will never understand this law. It was called stand-your-ground law that seems to give you license to kill someone especially when you are 17-years old and holding skittles and a drink wearing a hoodie.
Here's what I found out about this law:
A stand-your-ground law states that a person may use deadly force in self-defense when there is reasonable belief of a threat, without an obligation to retreat first. In some cases, a person may use deadly force in public areas without a duty to retreat. Under these legal concepts, a person is justified in using deadly force in certain situations and the "stand your ground" law would be a defense or immunity to criminal charges and civil suit. The difference between immunity and a defense is that an immunity bars suit, charges, detention and arrest. A defense permits a plaintiff or the state to seek civil damages or a criminal conviction. More than half of the states in the United States have adopted the Castle doctrine, stating that a person has no duty to retreat when their home is attacked. Some states go a step further, removing the duty of retreat from any location. "Stand Your Ground", "Line In The Sand" or "No Duty To Retreat" laws thus state that a person has no duty or other requirement to abandon a place in which he has a right to be, or to give up ground to an assailant. Under such laws, there is no duty to retreat from anywhere the defender may legally be.[1] Other restrictions may still exist; when in public, a person must be carrying the firearm in a legal manner, whether concealed or openly.
If it sounds like that I am angry because of a young black teenage boy got shot and killed and I don't even know him, well I am angry; a righteous kind of anger that still to this day that the person who shot him still has not been arrested as of yet.
There is an uproar among people of concern and there are angry people out here who wants justice to prevail. They need to fire every police official involved in this case because they are doing nothing about this case at all.
Trayvon left behind two parents, other family members, school mates and lot's of questions that are still yet to be answered. Questions that I am sure many want to know for the simple reason we need to know.
Are they going to kill any more black teens while these cold hard killer self proclaimed heroes "Stand their ground"? It's a wonder if they plan to kill off all the young black in our neighbors.
In the meantime, keep the family in prayer for the loss of a young life cut down so young. Pray that the one who killed Trayvon will be put a way for life and hopefully a law rewritten or done away with one way or another or at least I am hoping for.
Minister Kenneth R. Jenkins is a freelance writer, poet, playwright, devoted husband. Internet/Podcast Radio Host/Producer and Associate Minister at First Tabernacle Missionary Baptist Church in Savannah, GA.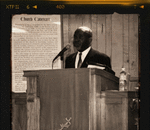 Posted By: Kenneth Jenkins
Saturday, August 25th 2018 at 7:44PM
You can also
click here to view all posts by this author...