Miss Franklin
It took me this long to speak of Aretha. For people of my generation it was never 'when was the first time you heard Aretha sing'. No, not that. It is that she has always been there. Just like the rock, the river, the tree. I must say that my favorite song is 'Ain't No Way'. That's the one. I understand that many will say it was 'God given' talent and of course she was raised in the church. No. She is not that small. It had nothing to do with Jesus. Understand it had everything to do with the Ancestors.
Aretha Franklin began on a slave ship in the middle of the Atlantic Ocean. Ancestors huddle together, packed like bales of hay for maximum profit. They had no use for a deity who needed to be praised. His ego stroked if not then you'd be sent to a place of bad spirits. That's called blackmail. No. There is no deity. The power is in the voice. The voice of witness. Remember she goes as far back as 180,000 years. No need to invent deity, male God whose permission is needed to exist. It is there, in the palm of her hand. Like her Shero speaks 'Obeah Woman from beneath the sea, I know the angels name by name, I can eat thunder and drink the rain. I kissed the moon and hugged the sun, I called the spirits and made them run'.
All of the ancestors fell to Earth in the Negro part of town in Memphis on March 25, 1942. The women ululated their tongues and moved in rhythmic sway chanting 'bring Mother back. Bring back the one that gave birth to stars. Tapped the earth and made the waters flow'. When Aretha Franklin sang, she was the voice of those African women who could not speak, their voices torn from their throats. Power is in the existence of the body. You have been born. You have walked where the ancestors could not, but it was there path that you followed. Their backs used to cross over deep and treacherous waters. One of those Ancestors came back for that very purpose. I stood in the harrowing teeth of the past and I could see the future. Aretha Franklin, We are more than what we were, because of your voice.
Arnold Pettway 08/21/2018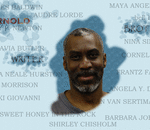 Posted By: Arnold Pettway
Tuesday, August 21st 2018 at 8:00PM
You can also
click here to view all posts by this author...