I missed it and I am here in the state of Florida. The young man murder in front of his son. The latest in the stand your ground shooting. The tragic part is that they were arguing over parking space. But the killing of native peoples all over the world by Caucasians is not new. This has gone on for centuries and they have always said that they were in fear of their lives. The Aborigine of Tasmania. Africans all over the continent. The Indigenous of the Americas. The Tagalog of the Philippines. In fear of their lives is what we have always been told. The same excuse, same tactics, different times.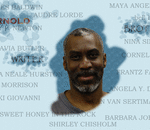 Posted By: Arnold Pettway
Wednesday, August 8th 2018 at 6:35PM
You can also
click here to view all posts by this author...