The Traitor in the White House I must say is taking it to new heights, but being Negro in America we all saw it two years ago. And I will say traitor. We need to make it a part of our everyday speech pattern. Donald Trump is a traitor. The moment he made his speech in June or July of 2016 about Russian uncovering e-mails, I understood in that moment he was a traitor. He looked directly into the camera and said it. I understood he was speaking to someone. I didn't need evidence of his greedy children taking meetings with the Russian government to prove anything. I just understood it. I would hope all that could read this and pass it one to others please vote this November. I may need to say vote Democrat, because there maybe some Republicans in the bunch. And if there are Republicans reading this grow a spine and speak truth to power.
We Africans in America, have never been a footnote. Whenever racism comes into the conversation then they call us. We were there when Caucasian men were disenchanted in 1777 and the revolution wasn't going to plan. We were there when England tried to take the colonies back in 1812. We turned the tide in the war between the states, especially after 1863. Buffalo soldiers in the opening of the west. World War I and fighting for the allies in World War II, especially since we fought in a segregated army. My father and my uncle, his future brother in law fought in Korea. Vietnam, Iraq, Afghanistan, we have been present. And the traitor had the audacity to say on stage in front of his white supremacist audience 'what the hell do you have to lose.'
Understand this man has a hatred for the United States. A hatred for working people. Those folk he and his father tried to bar from renting in their apartments were working people. 94% of African American women voted for Hilary Clinton. 88% of African American men voted for Hilary Clinton. The vast majority of Negroes in America did not vote for Donald Trump and we went to work everyday. Let us not be afraid to call him by his name. The Scumbag, White Supremist, Traitor. I say this because I work for a major bookseller, Barnes and Noble and I hear things that I can't speak to in the store. There is even a patron who comes into the store everyday and cover up books and photos of President Obama. I have come to understand that that is a psychosis. It happens everyday. I have had to understand that they are angry that this African American man, in every sense of the word, did something they could not do and that their Great White Hope is actually the Great White Hype.
But we need to vote him out, since that is the only way to remove the traitor from office. And if you believe that voting really doesn't do much, just think. Why are they trying so hard to deprive us of it. And not just us, but of course the Democratic party. We have an investment in this country that far outstrips that of our Caucasian brothers and sisters and of course they know it. For a very long time they have let us know that they know it. The Russian government couldn't rip us from the land, but they are very successful with Caucasians. WE NEED TO VOTE. Be heard, whether it is on your blog page, twitter, Youtube or Instagram, let everyone know THERE IS A TRAITOR IN THE WHITE HOUSE.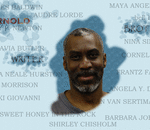 Posted By: Arnold Pettway
Tuesday, July 24th 2018 at 7:20PM
You can also
click here to view all posts by this author...