NRDC is seeking a full-time Staff Scientist with advanced expertise in data mining, geospatial analysis, data analytics and data visualization to work with NRDC's Science Center, which supports and advances the use and application of science in all of NRDC's programmatic areas. Reporting to the Director of the Science Center, the Staff Scientist will bring scientific expertise in their own disciplinary field to NRDC, serve as our in-house expert and resource specialist on GIS (Geographic Information System) and other data analysis and visualization tools and techniques, and work with the Science Center and NRDC programs on a range of environmental, energy, urban development and public health issues. We are particularly interested in scientists with additional experience and/or training in economics, social science and epidemiology, but all relevant scientific disciplines will be considered. The position would be based in our San Francisco, CA office (preferred) or in our Washington DC or New York offices.
Responsibilities
Work with the Science Center and NRDC programs to access, analyze, interpret, translate and apply scientific, engineering, demographic and economic data and information to inform, support and advance our advocacy on a range of environmental and public health issues. Serve as in-house resource specialist for NRDC's use of mapping, geospatial analysis, data visualization, data analytics and indicators to analyze, illustrate and communicate our programmatic work, ensuring consistency, accuracy and quality for this work and its application to our advocacy. Activities would include:
• Finding, accessing, acquiring and organizing data and scientific information from a variety of sources;
• Conducting research, analysis and review of scientific data, information and studies;
• Consulting and providing guidance on analytical design, presentation and interpretation of results;
• Supporting and advising NRDC staff on their use of GIS and other data analysis and visualization tools, and assisting with the curation of NRDC-authored GIS data sets;
• Working with NRDC programs and web and communications teams to develop geospatial and/or data analytics projects;
• Designing, creating and delivering static and interactive maps and other data visualizations, geospatial analyses, and analytics and indicators using desktop and ArcGIS Online software platforms;
• Managing NRDC's ArcGIS Online organizational content, and developing and providing staff training for GIS and other data analysis and visualization tools;
• Keeping current on GIS and related software, new and existing datasets, and other analytical and visualization tools and resources; and
• Managing and serving as liaison for NRDC's contract and relationship with ESRI.
Click this link to view and apply for this job!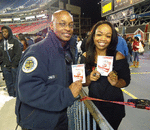 Posted By: Elynor Moss
Thursday, May 18th 2017 at 1:53PM
You can also
click here to view all posts by this author...