Girl I have never been in love like this,you have brought a whole meaning to the word call love. You have gave to me all of you if I was dead your love would wake me from my grave,you have gave me so much until the angels got jealous. you gave me all of you until it rained when the sun is out,girl you gave me all of you until when its day it turns night . When the sky is blue the stars come out,oh girl I love you,I love you with all my heart and soul I adore you and I cherish you and I want to be with you forever you are mines and I am yours. I dont care what the people say or do to try to break us up,our love is to strong for anyone to come between us. darling you're all I got,girl you're all I want in the whole world. Sweetheart you're everything I want in am woman,darling you are my heart and soul my inspiration. you're everything I live for,your everthing I got in life. Girl you lift me up higher,higher you bring me much joy and happiness you're just like a sweet bottle of perfume. Oh you dont know what you do to me you turn my world upside down and inside out,oh girl you make me feel all brand new and I will always love you forever,forever.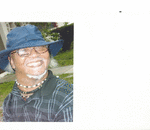 Posted By: david Cook
Tuesday, March 28th 2017 at 11:45PM
You can also
click here to view all posts by this author...