...We are Kindred, combined by a far greater lineage
than that of Blood relation.
In every notion of GOD and such, In every inkling
of universal order and such, in every consideration
of Profound Power and such, In every evidence of
Greatness and Such,...I consider phenomenon
such as these to be Truths in the Blessing
of my encountering the essence & elements
of Brothers such as they...this is dedicated to,...
I see US and We. There is no element we lack standing unified,...incumbents
to the cause is not due to duty, nor choice...it's a natural order to be,
Blessed Be My Brothers.
Some persons choose to be partakers, others are ordained or chosen by forces greater than the will of Man...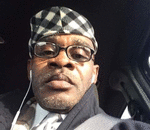 Posted By: James Corey
Wednesday, February 15th 2017 at 2:34PM
You can also
click here to view all posts by this author...