The Black man is here, I wonder why the world is so corrupt and file. I wonder why we love and hurt each other, i wonder why we love to cheat on each other,i wonder why we love to lie to each other,i wonder why we like to see other people in pain and misery. The world in which we live in it is ruled by a evil dark spirit that want to see everybody destroyed. He dont want to see nobody happy,he dont want to see nobody full of joy. He don't want to see nobody loving each other and he don't and to see nobody smiling or laughing. He is the prince of darkness. He will deceive you and fool and destroy you and lead you down a road of deception but the choice is yours. You got to make the right decision,to which road to follow. It's your choice to follow the road of darkness or the road of light. Which road are you going to choose?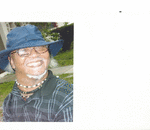 Posted By: david Cook
Monday, February 6th 2017 at 3:23PM
You can also
click here to view all posts by this author...