The beauty of life. Life is so beautiful, look at the sky look at the flower and the trees behind you. Everything is so beautiful. Look at the beauty of nature and all of God's creations,look at the sea. Look at all what God have given it to you. God is so magnificent and marvelous until he will give you the world in the palm of your hand. Just be obedient to him God will open doors that are closed,God will give you all you gotta do is surrender to him your heart,soul,mind,body and everything else. Let God guide you in the right direction don't go wrong for god won't lead you wrong. God won't let you deviate,god won't let you go right or left he will keep you going straight. For no one but the righteousness shall see God. God want all of us to love each other. God wants to keep his arms around us. God want to keep us all together with love joy and happiness. If you learn how to trust and believe in him he will never never forsake you he will always be there for you for God is still in control of the whole universe and everything in the universe.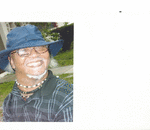 Posted By: david Cook
Monday, February 6th 2017 at 3:19PM
You can also
click here to view all posts by this author...