Each other let's hold each other hand and walk on the beach kissing and holding each other. Loving and enjoying each other company to the fullest just loving,loving,loving each other. The love pouring down from heaven upon our heads. Oh girl this is the time we should try to change the world and try to make it all brand new with the love and affection. The world needs love there is too much of hate going on in our history in the world. We got to show love show love wherever we go. God will give it if we ask for it, he said ask and you shall receive,he said he said knock and the door shall be opened he said whatever you ask for in my name i shall be there and i know the world gets ruff. I know the world gets so hard it makes you feel like giving up quick but you can not let this world get the best of you,you gotta keep on pushing no matter what you do don't give up don't quit because the best is yet to come. Everytime you smile you have joined the love of christ.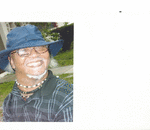 Posted By: david Cook
Monday, February 6th 2017 at 3:17PM
You can also
click here to view all posts by this author...