Donald Trump, I don't see how the people of America could elect a man to the highest office in america. Donald Trump doesn't care about you or me. He only cares about one thing. Himself and his family. I don't see how america could elect a man who has no kind of sensitivity. A man with no experience. I don't see how an the hell he was voted in the highest office in america. America is going to be in a rule of awakening. America is already going to hell. Donald Trump he is going to push it down a little faster. It is a crying shame to hate each other so much until we voted hate into the office. This man he has no kind of moral values. Don't you see the way he talks down to the people and the women my God are yall blind can't you see this man is racist. Didnt yall hear the words that came out of his mouth it was file and corrupt and unbecoming of a president. This man has no purpose of being the president of america. He said he is gonna make america great again but how can he make america great it's already great. Can yall tell this man is bipolar he say one thing and do another and lie about this and lie about that. The man need psychological help. I never heard no president use those kinds of words. John F Kennedy,Dwight Eisenhower,Carter,president Roosevelt,Barack Obama I can go on and on they have never used any type of profanity they always presented themselves like presidents. America has never been so divided I know I am not no american because I don't own nothing here in america no land no nothing. In america you have to be apart of the system before you could be counted in.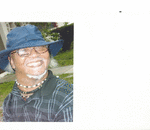 Posted By: david Cook
Thursday, February 2nd 2017 at 1:36PM
You can also
click here to view all posts by this author...