Seems like love has forgotten all about me,Seems like love does not exist. Where oh where is the love gone to. Look like it was here today and now it's gone away. It's so good to be loved,it's so special to be love,it's an honor to be loved by someone it's godly it's so godly to be loved everybody in the world should feel a thing called love. Love is so good! it's so good,it's so good to be loved just like ice cream and cotton candy. When you are loved truly loved by someone that's all you need in life. You don't need all the money the big nice house or the cars as long as you have love in your heart to share and you're giving it and taking it that's is the greatest gift of all. It's so wonderful to have someone tell you I love you. The world is so full of hate there is no love nowhere. The White man hating the Black man,The Black man hating the White man and all the other minority hating each other to. Ain't nothing but a bunch of hate down here on this earth that we live on. There's no love there's no love nowhere in site. Yall crying out for love to come our way. What the world needs now is love sweet love. That's the only thing there is just too little of. We all just need to fall down upon on our knees and pray for love to come our way. When God created you and I he created us to love each other with all our heart and soul unconditional in sickness and in health until death do us part that is what love is all about.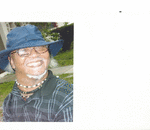 Posted By: david Cook
Wednesday, February 1st 2017 at 1:21PM
You can also
click here to view all posts by this author...