I have been all around the world and I have seen death come and go. Death has no respect of person. Death doesn't care who you are or what you are. Death is common some of us say we want to live forever. No you don't! no you don't! life come for a season,death comes forever. Grandma died one day and there was nobody there to take care of grandma so a human being gets tired of crying out for help so God just takes them back home wherever home is. We are here for a moment and gone the next second. Death is going to be around forever and forever. Can you say that about life sure we produce we generate life that is our purpose to do but death has no valid reason to come take your life or my life because of a man's sin. One man brought all kinds of disease incurable sickness upon mankind that's why when you see a person on crutches or confined to a wheelchair or can't get up out of bed you may ask yourself what did they do they didn't do nothing it was all for the glory of God. For we was born to live and born to die for death. Life is two parts of the same component how can you have life and not have death,how can you have death and not have life these two interties feed off each other you can run to the end of the earth and guess who you will find there waiting on you "Death" no matter how good you are,no matter how sweet you treat people you are going to die no matter how bad you are or what you have done in your life you are going to die the only thing you can do is repent. It doesn't matter what color you are or how rich you are you can't get around death no matter what you have achieved in life you are going to die regardless.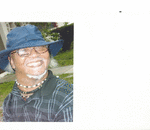 Posted By: david Cook
Monday, January 30th 2017 at 2:23PM
You can also
click here to view all posts by this author...