I am the word and the word is me. I was in the beginning and i'm going to be in the end. Everything you see around you i spoke it into existence, There is nothing that you have seen that i did not create. I have spoke everything that you have seen upon this earth into existence. I am the author and the creator of all things. I created woman and man and everything around him. Look up and look down hard and tell me what you see. Look at the stars and the moon and the clouds in the sky and tell me what you see. Don't you see me and all my beauty in everything you see upon this earth. I am the word that spoke it into existence. For i am the one that spoke it into existence. For i am God and God is the word. All the creatures that are running through the forest the beauty the flowers the trees and everything that you can name i created it all. For i am the Alpha the Omega the beginning and the ending. Do you know how simple it was to create this world it was so simple to form this world into existence just think how easy it's going to be for me to destroy it. For i am God and i don't play. You are a God and i am a God. I made you a God so you can do my will. For i am not coming back down here to earth to do my will so i leave it up to you the choice is yours to do the right thing by mankind.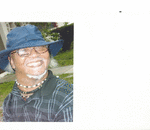 Posted By: david Cook
Tuesday, January 24th 2017 at 10:29AM
You can also
click here to view all posts by this author...