I hear people talking about Dr.King. Did you know White and Black people Don't know what Dr.King stood for? And some of them don't care. But i care that's why i am going to explain to america and the whole world what the man really stood for. Can't you tell by the look in his eyes that he was not from this planet that he was just a spirit passing through doing the will of God. This man gave his life for justice,liberty and totally equality not for blacks alone but for all races. This man stood for integrity he was born to lose but bound to win. Dr.King knew he was going to die he knew his days was numbered but he had a job to do. He saw the White people mistreating the Black people he saw the Black and White apart and not together and he wanted to see races come together as one. But we all knew that was a foolish dream. I don't knock Dr.King for trying his best to bring the races together again. People have died for the simple things out of life we just wanted to go to school and get the best education and we just wanted to go through the front door without being harassed by the police we just wanted to be able to go any where in america without being told we were not allowed inside because of the color of our skin. Dr.King said my dream has become a nightmare! He said Freedom..Freedom we are a long way from freedom he said i want the poor to have the same rights as any other human being on the face of this earth. The poor Whites the poor Blacks and the poor Hispanics. Dr.King was a man of God that was used by God. He gave his all and all and gave everything that he could give to open up the oppressors eyes not only for the blacks but he died for the Whites as well. He saw the condition america was in he knew a little bit more. That america would explode with a race war. Look at Detroit look at Watts in L.A look at how them people tore them cities up and i don't think they rebuild them today. Thank you Dr.King for doing your job you had a part to play and you did your part now God has to do the rest.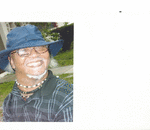 Posted By: david Cook
Thursday, January 19th 2017 at 1:05PM
You can also
click here to view all posts by this author...