Ft.Pierce i have been here all my life and i have seen the ups and the downs, black people have always been down and rise up don't you think?.Isn't it time for black people to be self sufficient. Isn't it time for black people to start running their own community,there own health care in their own neighborhood. The black people should start owning their own banking system. They should start policing their own community the time is now there is no tomorrow the day has come we should be in control of our educational system. we should teach our kids what they had not been taught it can be done all it takes is unity. We need to came together as one and unite. we can accomplish any and everything we have been denied all these years. we was brought over here for a reason it wasn't just to be a slave. God has a reason and a purpose for all the abuse and for all the hell and the chaos that our ancestors went through, God is so angry now at the system for the way the white man treated the black man over the years. I remember the time when i was a little boy when we was self sufficient we had our stores,we had our own transportation we had one special doctor Dr.Benton and our own dentist Dr.Young we had everything over here we couldn't cross over for nothing or rather we wasn't allowed to. Ft.pierce can be and will be once again improved i hope and i pray that god will not take out his anger on america like he took it out on farrow and egypt. Justice,Liberty and equality that's all we been asking for. Sure Ft.Pierce was good all the Doctors that came and they left, All the Lawyers that came down here and left, all the school teachers Ft.Pierce was the mecca. All kinds of singers that are legends now today have been right here in Ft.Pierce you just don't know the rich culture that Ft.Pierce has.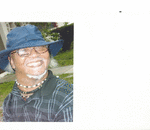 Posted By: david Cook
Tuesday, January 10th 2017 at 3:37PM
You can also
click here to view all posts by this author...