Life is so so good when you are alive, Life is so beautiful when you have the money to enjoy it. Life is so wonderful when you can just pick up and fly away to any country that you want to be in. When you can see the poor always begging the white man for a piece of bread. Isn't it about time to say i am going to take whats mine everything upon this earth belongs to me, to the original people it is ours we have to claim it everything upon this earth and everything in it belongs to us no more shinning shoes,no more buck dancing for a quarter those days are gone those days will never return. For it is our time to live the good life, it is our time to enjoy the good parts of life..life is what you make it life can be so so so good and sweet life can be anything you want it to be bad or good but you have been mistreated until God have created a whole new paradise. Keep the faith hold your head up high it is coming. In with the new world and out with the old world.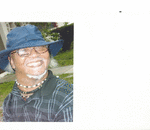 Posted By: david Cook
Thursday, January 5th 2017 at 4:21PM
You can also
click here to view all posts by this author...