I wrote this book because I felt there is a strong need out there for something that does not obscure the hard bold facts about parents and their children. Sure there are parenting books all around. But this book is also about how not to parent. Thatís right, how not to parent. This book is about our young children and their futures. It's about parents who may stand in the way of that progress.
I talk a bit about my young son. I use his behavior, and my response to it, to give readers an insight to how I parent. As my son grew, his issues have gotten worse, however, I speak here of when he was a toddler to about ten years old. I talk about how I actually learned on-hand parenting and how he responded as a child. And through it all, he had once academically excelled, at that time. At the beginning and soon later on in the book, it gets concrete and to the point. Some adults must recognize themselves as being bad parents and work on becoming great parents.
When writing this, I dropped everything else I was working on to give this work top priority. I'm a writer of fiction; from my standpoint, writing fiction is more enjoyable. But this was a message I felt compelled to complete. Children are leaving this world way too soon from street violence and bad parenting. I love children and I hate to hear and see them abused in so many ways due to no fault of their own. I think some parents should change their negative behavior when it comes to their own children.
This is a book that should be read by everyone. Most people have children and all adults are somebody's child. The dreams and nightmares in this book may be just the beginning. If it appears that I am repeating myself on this subject, it is because I'm very passionate about what I'm trying to put forth and lay out here. I wrote this book for myself. I wrote this book for my son. I wrote this book for you, the reader. I wrote this book for the children abused. I wrote this book for parents. I wrote this book for all future parents.
This book was truly a labor of love for me. I looked at my own child as a big influence on me and everything that I have written here, and in articles and books that I have and will produce. He gives me that momentum to keep going, even while others take aim at my back. Thanks Denver.
George Wilder Jr.
Available at:
www.amazon.com/author/gwilder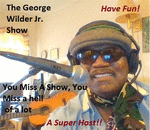 Posted By: George Wilder Jr.
Monday, March 3rd 2014 at 2:13PM
You can also
click here to view all posts by this author...