This is dedicated to The Memory of Mousie Brown " Rest in Peace
The only dad we ever had"
Written by Joshua James Hawkins and Ms. Novelist Zoleka
This is a tribute to an icon of the Bay Area Black histor. For many he remains misunderstood, and his cause remains a mystery. A vanguard for the people exemplifying the bleeding heart, he dedicated his life to a cause that seemed doomed from the start.
For anyone that knew anything about our Mousie Brown, he was a protector and rights provider giving a voice to the exact ones who could not be heard in the first place. He stood for righteousness, taught us what we didn't learn on our onw. Although his cause was created in a world, seprated form the world that most of us knew, his cause was our cause and we stood for it. This cause was formed behind the shallow walls of life, killing the roots of ignorance not allowing them to grow, behind bars.
I realize that it's impossible to fathomwhiel on the outside looking in, especially when you odn't know where to begin, where you left off, and where your struggling to find the start. But there was a time in hte California Prison System where young men for the Northen California felt out numbered 5 to One wiht everyone against them.
Mousie orchestrated and formulated the movement for justice and for those who chose to follow. Understanding how much he loved each one of us, we didn't mind becaue we hand a "strongleader". There were times when men were released with no where to go. It was Mousie who established J.O.B.S and housing for them. They knew it to be true because Mousie Bown said so.
From the eyes of the system he's been mis-labled given the title of his complete opposite but for the coutless lives he has touched we not to feed of the misconsception. He was an educator to anyone who ever came inot contact with him, for every amendment right verbatim, he would spit them always life, even thoug he was handed the cruelest life, smiles could change any day.....It wasn't just the words, it was the way he selected each and every one of them.
There are so many of us who will always miss him only remembering the good without a singel thought of the bad....After alll for many of us Mousie was the Only Dad we Ever Had
Dedicated to the Late Mousie Brown Leader and Father of ------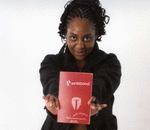 Posted By: zoleka montgomery
Friday, May 25th 2012 at 7:52PM
You can also
click here to view all posts by this author...