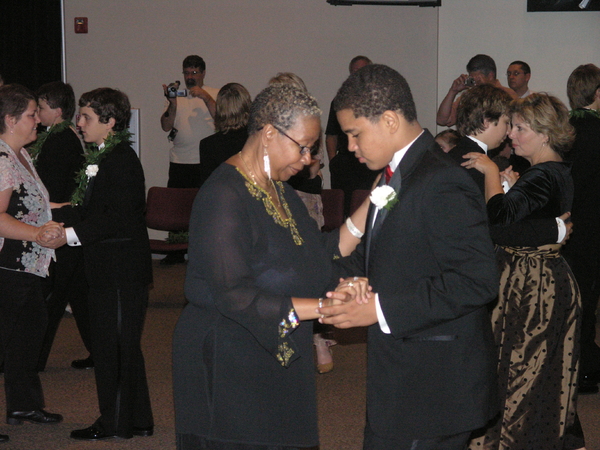 Our Son Immaculately Conceived -
Part 1
l shall share how my intention and the magnitude of manifesting my intentions by sitting in the seat receptivity for our son came about with suggestions of how you can utilize intention and belief. By my sharing my intentions, you will learn how our intentions bring about the desired results we truly want in our lives with focus, belief and intention. A change in the perception of who we think we are will allow us to begin to love ourselves in an unconditional way for the first time. We will be able to see the miracles that have been cloaked by our blindness.
My husband Chris and I had been married and for fifteen years and we had wanted to have children. From 1979 until 1993 I had prayed, desired and longed to have our first child together. Despite my age, I believed through faith and through the belief that Abraham and his wife Sarah had shared, I too held on that my prayer could be answered and would be answered. I just didn't know how but I immediately dismissed the "how" from my mind vocabulary, my heart vocabulary and my spirit vocabulary because I had learned the truth about what doubt does to your desire.
The following information on what happened for me personally is excerpted from my book, Super Vita-Minds: How to Stop Saying I Hate You...To Yourself. It journals the events of my son's immaculate conception.
Dec. 30, 1993 - Frustrated about Chris and I not being able to give birth to a child.
Dec. 31, 1993 - Unknown to us, Joseph Paul Doolin immaculately conceived...more on this later.
January 22, 1994 - Been working hard all day to get my book out, All I Need to Know....Is Inside", and received some very strong promptings and urging to sit down, be quiet and listen. I Wrote, "I am here, listening and ready to write what the Holy Spirit wishes."
"Thank you My Child for listening and settling down. You will be well rewarded. Blessings I bring you from the Pleidian Council. All doors have been opened for you. You have made it through the grid work necessary to be a multidimensional being. We are happy to work with you. Believe that you will find all necessary information for your next task. The Doolin Healing Sanctuary activity is going very well, as you know, effortless and easily. You are not worrying about anything. Thank you for allowing us to work for you. Your blueprint is as follows:
Stay in control of your
· Thoughts,
· Feelings and emotions.
· Believe in who you are and your impact on people.
· Grasp the meaning of the moment.
· Believe all the love in your heart and more will pour in.
· Beckon no one, they will all come to you.
· Share your truth with them...they are seeking your words and wisdom of the Law of Life.
"YOUR CHILD IS COMING! DO NOT FAINT! Lock into the Truth like a fish to the ocean. Release your image of the physical self. You are beyond that now.
· You are a spiritual being, a multidimensional being in the flesh as a beacon. You are invincible to negativity and so are all those around you (your family).
· Thank the Lord each day and night. Contact us for any help we may offer to you and your loved ones. We will speak with you again tomorrow at this time."
I said, "Please tell me who you are."
The response was "I am Kwan Yin."
January 28, 1994 - Dear Kwan Yin, I hear and feel your presence. I invite you to please speak.
"My Child, I am with you and I have wanted to speak with you since you left your driveway this morning. It is urgent that you hear and believe every word I tell you. You are a beautiful, most wonderful Child of God. You are childlike, as you should be. Ride the wings of your childlike manner and all good things will come to you. You know you are no longer afraid to speak, act or attempt anything. You know that it is yours because you have commanded it to be so.
"As I spoke with you this morning, you handled the situation at no cost to you. You do not offer conflict and you do not live in conflict for you know that is not of God. All will work out perfectly well. I am working with you every step, every moment with the project and your center. There are others who are assisting you with the other projects such as your music.
" I will be with you here as well. Do not ache inside for a child. Your time will come, believe me, yes in this lifetime. No, you will not be too old my child. I am assisting you in rearranging the molecular structure of your womb. There are Principles of Life that you are about to learn and that will assist you tremendously.
Do not get frustrated. It is my honor to work with such an evolved human being. Praise God. Ask me for anything and it shall be done. You have proved your faithfulness, and your love for God, self and neighbor. The mighty weight is now lifted from you...from your heart this moment. Sit back and allow me to do this.
Thank you,
Kwan Yin"
If you do not love yourself, what you think about yourself is revealed in your face, your eyes, your body language and your auric field. You will attract people in your life who are victimizers and manipulators (through the energy and thought forms you send out in your auric field) and you will not experience your highest good.
Each time you look at yourself in the mirror you will abuse yourself by what you perceive to be true, which is not. Your thoughts are things-energy and substance. Your thoughts are power.
· Use your thoughts to your advantage to be successful, loving, loved, healthy and radiant.
· I am your partner for experiencing daily life at its fullest. Change one perception about yourself and you will see the miracles you have been overlooking for a long time.
· You will see how beautiful you are.
My journaling continues with Intention and Its Application, To Conception
February 3, 1994 - I have been prompted since the morning hours to sit down and write. At 4 pm, I finally settled down in my bed to write as I was listening. Something very powerful, earth-shattering and Divine was about to blast its way through the Universe to me and I didn't know if I could handle the excitement I felt was waiting for me. But I guess I felt I was ready because it was about to happen. I didn't know if I was about to
· Win millions of dollars,
· conceive a child,
· adopt an infant or
· be on Oprah Winfrey's show.
Those were the things I related with this feeling I felt.
I said, "Peace Be with me," as I was listening and recording. "Thank you Father/Mother God." I turned off my bedside light.
I felt like I was about to have metaphysical surgery done or implantation of an embryo into my womb. It was very, very strange. I was asked to be quiet.
Conversation with Ascended Master Kwan Yin
You are in receptivity of conception in heaven (your mind) as on earth (your body).
Part 2
"As I sit crossed-legged in meditation pose, I feel the Presence of Ascended Master Kwan Yin. I asked Kwan Yin to make her presence known to me after I blessed and protected my being by the Light of Christ. Kwan Yin showed herself to me for the first time. She wore a blue satin cape and gown, brilliant royal blue. I said telepathically, "Oh, you are the one I saw before in the blue cape and gown the night before our ACIM meeting last year. She said, "Yes." She kissed me on my left cheek and my third eye. She said to me, "You are about to give birth to a Holy Child. Time means nothing here so that's why I said about to give birth. Actually right now you are going to conceive him. You have told me you are in receptivity of conception and SO IT IS!"
As I had my right and left hand crossed over my heart, I sat and saw a beam of bluish white light come from her mouth into my ovaries and womb. I saw purple symbols flow out of her mouth within the beam of light. Afterwards, I placed my hands lightly over my pubic area and asked Kwan Yin to please tell me what was happening. She said, "Conception has taken place now. Now all you have to do is wait."
February 4, - I was reminded by Spirit to look at my blotter pad at the note I scribbled to myself February 1, at work. It read, "A baby is come unto me." A Voice had merely whispered this information to me at 10:40 AM while at work on February 1. Then I felt energy in my solar plexus just explode all throughout my body!
After I composed myself, I was told to go outside of the building I was working in because the sun was out. I was to stand in the sun and feel its energy and so I did. While sitting on the railing, I saw Tinke (my fairy that was appointed to me) fluttering around in front of the sun. She was gleefully saying, "See, I told you, didn't I? I told you so!" I looked again to see if I really saw her and she vanished from my eyesight, so I knew to just feel her there and then I saw her again, fluttering above and in front of me. I started tearing because I knew I was not going to have a baby, I am having a baby - it was not to be in the future, but now. I had always felt if Abraham's wife Sarah could have faith and have a child delivered unto her, so could I regardless of my age.
On the 7th, I remembered telling Chris as we lay in bed how my body was vibrating and tingling with such a powerfully electrifying energy. On the 9th I experienced spotting -pinkish blood. I know I am pregnant. I did not know before I woke up, but as I lay in bed while Chris was getting dressed, I mentioned to him how I felt so much energy tingling within me. I felt great, energized!
On the 11th, "Dear Kwan Yin, I await to write your message to me this Holy Day (Ash Wednesday). Love, Daya
"My Dear Little One, All is well for you. Do not worry or fret that what is, is not. You hold the truth in your womb. Remember your vision, your meditation tapes and charts of your body holding a baby in your womb- do not fall away from them. Feel how you feel, and call on Tinke, if you wish. She's there for you. My blessings I leave with you. "
Isn't Life Funny?
Part 3
Tinke - "Ha-ha-ha-ha-ha-ha. Isn't life funny? I told you so, I told you, I told you soooooo! Don't be afraid your heart will be broken again - all is well. (Years before I had a miscarriage.) You watch tonight. I will tell everybody in class that you are pregnant, then you'll know for sure it's not baloney. I don't eat baloney you know - Hee-hee-hee-heeeee. Bye for now, see you tonight." I had never had any experiences with fairies personally until then.
On Feb. 18th. I wrote and spoke to my embryo child and asked if I could come into its presence so I might hear what it had to say to its Daddy and I.
"Mommy, I love you. I am not afraid anymore. Everyone in your class helped me to not be afraid. I was awfully afraid to come here, but I wanted to be here with you and Daddy for a long time. I'll be a quiet baby, a happy and healthy baby and I'll also be a holy baby with my purpose. I am to lead people to the Light. You are a good Mommy, I'll be so glad to be in your arms and have you rock me in our new rocker." (see full rocker story in Super Vita-Minds: How to Stop Saying I Hate You...To Yourself). The rocker is what he is referring to that we supposedly, could not afford but did with my intention. "Thank you for picking it out with me Mommy. My work here will be very easy for you have paved the way for me with Daddy. I love your sweet music (we are musicians and songwriters as well). I have always loved it. It makes me cry with joy to hear you sing. Will you sing to me a lot when I come?"
I asked one of my guides, Arias to speak. "Daya, My Child, You are wonderful to watch growing into your splendor. It is my function to watch over you and your young ones. It is my honor to be of service to you at all times. Yes, you are with child and yes it is an Immaculate Conception. You must now consider that all you eat and desire to eat is of good consequence for your child. You have asked for a child and it is a real responsibility for you and Chris."
After that, I saw a baby crawling on the floor of our living room, which I knew was our baby, but allowed doubt to creep in. I asked Arias if that was what I thought I saw on the living room carpet. "Yes, but you were afraid to believe. You must Believe you are hearing and seeing what you hear and see, for you are seeing, hearing."
This took place over 16 yrs ago and our Joseph Paul Doolin is here!
All thought is form, substance, power and energy that attract unto itself the likeness of itself through the vibrational frequency of itself. Subconscious mind, Universal Mind is responsible for doing the work of attracting like thought frequencies so we need not questions how or doubt. If I had doubted over those fifteen - sixteen years, Joseph Paul Doolin would not be here with us bringing to us all the joy and love he has brought to his family, an older brother, 12 cousins, uncles and aunts.
How did I accomplish this? I got
· Firm in my focus,
· Did not waiver in my faith and
· I did not say my desire had to come in a certain package or I would not accept it.
· I sat in the Seat of Receptivity for our Immaculate Conception
What I did say was that
· I desired a Holy baby,
· A wise and intelligent soul,
· A healthy baby,
· A happy baby and beyond all that I could possibly be aware of understanding as Divine to receive.
As Chris and I were in prayer we asked what his name should be and we saw and heard Mother Mary and Joseph together say, "His name should be Joseph, Father of Jesus." And So It Is!
The remaining story about my intention, my conception and the seat of receptivity and birth of our son Joseph is in the Super Vita-Minds: How to Stop Saying I Hate You…To Yourself in Chapter 11.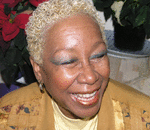 Posted By: Daya Devi-Doolin
Tuesday, October 19th 2010 at 12:21PM
You can also
click here to view all posts by this author...