http://www.blogtalkradio.com/profile.aspx?userurl=padaran
Daya Devi-Doolin's Hatha Yoga teacher was Professor Yogi Bharat Gajjar for years. He was taught by H.H. Swami Vishnu-Devananda of the Sivananda Yoga Center. His Guru Swami Vishnu-Devananda was taught by Sri Swami Sivananda whose centers are throughout the world.
He will be interviewed by his former yoga student, Daya Devi-Doolin who is now the host of her own shown on
www.blogtalkradio.com/padaran.
The show airs 1/21/10 at 2 pm to 3 pm. You may call in (917) 889-7358 to ask questions of either of them. At one time, they both lived in Wilmington, DE. Daya had since moved to Florida.
Now Professor Bharat Gajjar lives in Florida and they have re-united in person and by telephone. Professor Gajjar has written an endorsement for her book, The Only Way Out Is In: The Secrets of the 14 Realms to Love, Happiness and Success! His endorsement can be found also on
www.amazon.com
as well.
Yogi Bharat Gajjar has been teaching Hatha Yoga for over 40 years and is the author of several books including, "Yoga For Health, Happiness and Liberation". He is Daya's Honored guest on Thursday, Jan. 21, 2010.
Professor, Yogi and Author, Bharat J. Gajjar is from Ahmedabad, Gujarat, India. For 25 years he was married to Rupal B. Gajjar, who passed away. He has two children, Mr. Ajay B. Gajjar, and Mrs. Meeta Gajjar Parker.
Yogi Gajjar was a Professor at the Philadelphia University, Philadelphia, PA. He is the Yogi who has been accredited with bringing Yoga to the State of Delaware. He is a disciple of H. H. Swami Vishnu Devananda Maharaj (Swamiji) who gave him and his wife their mantra initiation. Bharat and his wife, Anandi Narayani Ma, opened the Sivananda Yoga Center in 1965, which was in Wilmington, DE.
They taught Yoga and had Satsung every Sunday for 38 years. He has been volunteering teaching yoga at Baylor Women's Correctional facility since 2002. He has given seminars and workshops on Meditation, Yoga, Marriage and Hindu Philosophy in Delaware.
Yogi Gajjar ,has an on going local Yoga television program since 1990 with a viewership of about 20,000. His daughter Meeta Gajjar Parker, is the vocalist for the rock band EXOTICA, ww.myspace.com/theexoticaband.
She appears in and on the cover of her father, Bharat J. Gajjar's book entitled, "Yoga, For Health, Happiness and Liberation." We will be using Jaya Radha chant for music recorded by Meeta Parker, produced in India by Meeta Parker and her husband Frank.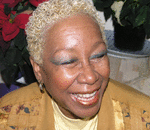 Posted By: Daya Devi-Doolin
Thursday, January 14th 2010 at 5:46PM
You can also
click here to view all posts by this author...