"Great Beginnings for Novels –
Your First Line, First Pages"
What is this event?
You've heard that if the first paragraph of your novel isn't strong enough, agents and publishers won't read the first page, let alone the first fifty. Now you can learn how to separate fact from fiction and remain true to your story. Learn to draft a first line that will grab an acquisition editor and announce your authority as an author.
Now you can take advantage of a live read and critique at "Great Beginnings of Your Novel – Your First Line, First Pages."
This live workshop will cover first pages, first chapters, and first characters. This is a unique opportunity for you to learn how pros consider the merits of the material and the intent of the author, then offer improvements covering everything from glaring grammar errors to story-structure flaws to the overall storytelling and more
Bring six (6) copies of your first 2 pages. Selected works will be read aloud, so the audience can follow along and learn how an agent or publisher reviews a manuscript. Time permitting, they may suggest improving the samples.
The Panel of Experts
A panel of literary professionals, agents and professional editors will include: Howard Hendrix, Whitney Davis, Helga Schier, Marlan Warren, M. Todd Gallowglas, Marco Subias (M)
Where is it being held?
This live interactive workshop is being held at the DoubleTree by Hilton Hotel, Los Angeles - Westside. Third Floor, 6161 West Centinela Avenue, Culver City, California, 90230-6306
DoubleTree by Hilton Hotel, Los Angeles Westside
When?
This two hour workshop will be held in association with the GenreLA Writers Conference on Sunday March 31st, 10 am - 12 noon (door opens at 9:30am)
And it's Free or very Low-cost
The workshop is free to GenreLA Conference attendees; Non-registered authors may participate for only a $10 donation at the 9:30 am registration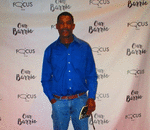 Posted By: Desmond Collins
Wednesday, March 27th 2019 at 11:15PM
You can also
click here to view all posts by this author...