I have never wanted nor needed to explain away, dismiss the African American articulation of the African experience in the Western Hemisphere, but after seeing the silly spectacle of Kanye West I couldn't help but think of the Jigaboo, coon show of it all. I was thrown for a loop watching this. He was set to speak about prison reform when he got there, but all that he did was heap praise words on the Traitor.
What was that? It was embarrassing to say the least. How does he imply that African Americans, especially men are so desperate for a father figure that we would look to Donald Trump to make us feel more like a man. All Africans in the diaspora know what the slave master looks like and he looks like Donald Trump. We know the noises that he makes. How does Kanye West go to Oval Office and say good things about a man who has never had a good thing to say about anybody. He said we came from **** Hole countries. Never will the White Supremist say how they got like that. Five Hundred years of Colonialism had nothing to do with it. Stealing everything from people to precious stones had nothing to do with it.
Does he and Jim Brown actually believe that heaping praise on White Male domination will make African peoples stronger. Africans have been told for centuries that we are to emulate them, Europeans, in particular the Christian ones, would make us civilized. We have seen what makes Europeans civilized, to obtain as much wealth as they possibly can before they die. And we have been on the knife's edge of that civilizing process. We've seen what they are willing to do, to give up, in order to call themselves civilized.
We have seen it in African American communities across America, some more prominent than others. The violence, the degradation of others, the metaphorical assassination of others so that a privileged few could live. All of that for monetary gain, that is always fleeting. It may have become mythology, but the moral center of the United States rested on the shoulders of its Negro citizens. We have always known what freedom looks like. In 2016, Much of White America showed the world it would give up freedom and integrity and National Honor in favor of monetary gain. They would ignore Donald Trump's White Supremacy. His scumbag ways and his traitorous behavior in order to get a five dollar raise. Now he wants us to believe Negroes would do the same thing. Just throw Kanye West in our faces with his silly Praise-The-SlaveMaster-Show. No. We are not that desperate. I did hear that 13 percent, allegedly 13% of African American men voted for the Traitor. I should hope they have changed their tuned.
We have always wanted justice for our investment. Caucasians have wanted monetary gain. Financial rewards for being an American. I must say from our meager sustenance came a sense of honor. A National Integrity that Europeans envied. How does one stay so loyal to a country that has time and time again tried to undermine one's liberties. This, the United States, is all that we have. If it goes away there is nothing left. We've put to much into this thing called the United States of America and to see, to know, that there are African Americans who will actively seek the acceptance of someone like Donald Trump boggles my mind. If in this juncture we see them heaping praise, they will always give him cover. Apologize for his behavior, because they want financial gain?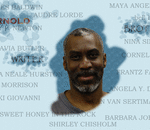 Posted By: Arnold Pettway
Friday, October 12th 2018 at 7:45PM
You can also
click here to view all posts by this author...