Sometimes I wake up 3or4 o'clock in the morning,thinking my mom is in the house and I can call on her anytime and she will be there and I can call out to her Mama,mama,mama but the house is so void and so damn empty,because my mom never comes to my bedside,I wake up and realize my mom is dead and she ain't coming back I cry a tear or two and go back to sleep. Where she is,is dead and in her grave mama is gone,gone,gone. But I appreciate the moments and the times that we spent together. Some people always ask me why are you always smiling and laughing and I tell them I got it from my mama,my mama kept a smile joyful and always laughing,to tell you the truth I never saw a frown on my mom's face only when she wasn't feeling good and that was in her last days upon this earth. The joy and the happiness begin to slip away and the frown begins to come upon her face,oh my God I wish I could have one more moment,one more minute,one more hour with you I will truly appreciate every moment that we would spend together. The Bible claims we are going to see each other again in the afterlife,but I dont know,we dont know whats going to happen in the afterlife but I pray and I hope that I get the chance and the opportunity to see my mom,brothers,sisters because I truly,truly miss them,it's just like a empty void inside my heart that someone had ripped out my inner beam and my soul mourns and my heart bleeds because I am all alone I dont have anybody to call my own,oh my God I wish you would send somebody into my life.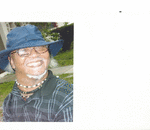 Posted By: david Cook
Tuesday, March 28th 2017 at 11:44PM
You can also
click here to view all posts by this author...