Plexi: Adversity by Kwame Opeyo is a fantasy novella featuring magic-wielding teenagers, Plexi Solaris, and two friends. The evil wizard Tínavreskrad from another dimension manipulates twins from Plexiís world into opening a dimensional rift for him to pass through. T'navreskrad launches a smokescreen invasion on Plexi's earth to hide his secret agenda.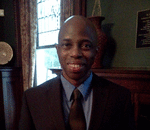 Posted By: Kwame Opeyo
Wednesday, December 28th 2016 at 4:51AM
You can also
click here to view all posts by this author...