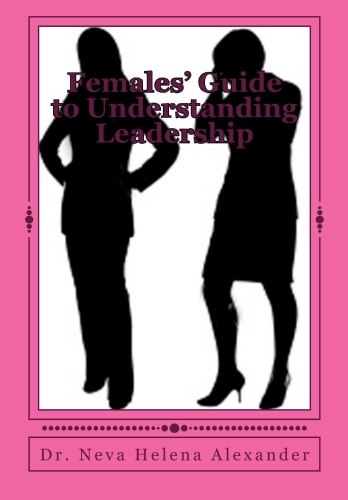 Saudi, Arabia – Top Professor in Leadership Development for Women Pens International Acclaimed Book Females Guide to Leadership Understanding Leadership. Dr. Neva Helena Alexander has written a timely leadership book help increase leadership capacity and potential for women globally.
https://www.youtube.com/watch?v=AjoTkTGDGaM&feature=playe...
Book Description: Females' guide to understanding leadership (Available on Amazon.com) This book is created from a female perspective for women around the world. Unlike many other books about leadership, this one combines practical experience from the classroom, boardroom, and research on women's studies. The aim of the author is for females to become better leaders in the many avenues of their lives.
This book helps you to understand the definition of leadership and you, how to lead with passion, being a critical thinker, groups and teams effectiveness, how to represent values to people, ethics, performance, strategic planning, the dynamics of working in the community, organization, behavior change leadership, gender and cultural influences on leadership, and the link between entrepreneurship and leadership. This book presents case studies to help readers better understand the book. This book will give you an improve perspective on leadership.
"This book is a must read for ladies who are leaders, in a leadership position and who aspire to be a leader of their community, business and organization. This book also include case studies, that would be a great guide for those who are business consultants/professionals and students who are studying business in college to gain knowledge. I had the opportunity of meeting Dr. Neva who is the author and having her speak at the Elevated Ladies Unite Women Executive Leadership Series. This book is for women that are looking to be educated, inspired and elevated". Lithera Forbes, CEO & Founder, Elevated Ladies Unite
About: Dr Neva Helena Alexander - Dr. Neva Helena Alexander (Dr. Neva) is currently a faculty member at Prince Mohammad University in the Kingdom of Saudi Arabia as a Coordinator for Core Humanities and Social Science in the College of Arts and Science. She received her doctorate in education leadership at Argosy University. She has her Master's degree in Social Science from Long Island University and her Bachelor's degree from John Jay College of Criminal Justice where she majored in legal studies. Her research interest and specialty includes female leadership, leadership styles and entrepreneurship.
Dr. Neva has organized networking events and public relations exposure for businesses and professionals who have been unable to exploit the many marketing opportunities on the internet, within their local communities, nationally and internationally. Dr. Neva has been driven by her passion for leadership, entrepreneurship and education. She was inspired by her mother, a single parent, who from humble beginnings was able to promote herself - through trial and error like most business owners.
To purchase a copy(s) of Females Guide to Understanding Leadership you may log on to
http://www.amazon.com/Females-Guide-Understanding-Leadership-ebook/dp/B0084V3GVM/ref=sr_1_1?s=books&ie=UTF8&qid=1344821374&sr=1-1&keywords=females+guide+to+understanding+leadership.
. To book Dr. Neva Alexander as a speaker or for interview inquiries you may contact Dr. Neva Helena Alexander @ neva@nevaalexander.com: or via telephone at 917-293-3984 US or +966595399696 KSA
Posted By:
Sunday, August 12th 2012 at 5:04PM
You can also
click here to view all posts by this author...