Poor little black girl you walk with your head down all the time. You think no one cares, you're very discourage, you think the whole world has turn there back against you. You roam through the night like a alley cat. You have been so missed treated and so abused life have been so unkind to you, and the only way you know how to show your feelings is through s*xual immorality. You don't know right from wrong because you never had a mother or father to sit you down and talk to you, and explained life to you. I know you are very angry and confused. Oh poor little black girl , i understand your problems. Because, see i have been placed in the same type of positions that you are in now. All i can say is Jesus Christ cares about you, so little black girl hold your head up, don't cry anymore, don't be sad anymore and in this world we live in, is so cold.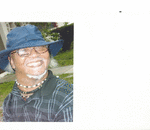 Posted By: david Cook
Thursday, August 2nd 2012 at 1:18AM
You can also
click here to view all posts by this author...