If I could not write I would truly cry. I would be very angry and bitter at the world because I could not express myself. I praise God for anointing my mind with the holy Spirit. He gave me a new mind to think clearly. He gave me a new heart to love, I think. I think day in and day out. I come as a thinking man that's what I do I think all the time and I praise God for giving me the mind to think. Now I must use my mind to help others for God. For God gave this this mind to use.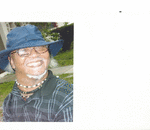 Posted By: david Cook
Monday, July 23rd 2012 at 8:54PM
You can also
click here to view all posts by this author...