The world is a stage where everyone has a part to play. Pretending to be someone they're not, wearing a false face, living the life of a clown, only fooling themselves and treasuring the material world- something that's going to lead them to their death. They're always playing games never being for real. You come to me with a sincere face of false illusion and my mind sees right through it, what your trying to put down. The world is a stage of people with hidden feelings or sadness, trying to escape to the world of tranquility. They're always trying to hide their emotions, and never really expressing how they feel because they're afraid to make a step toward being for real. If I were to reach out my hand I wonder would you try to make me like you? Would you be for real first with your self, before you pretend to be for real with me? You are threatening the good of others with your false face. Don't you see the bird flying in the sky, so high? Don't you know those things are for real? Please stop playing those games.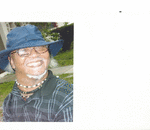 Posted By: david Cook
Tuesday, July 17th 2012 at 7:58PM
You can also
click here to view all posts by this author...