Young girls and some women who are beautiful, intelligent, and looking towards to a rewarding future can walk into a crowded room with nothing but guys and walk out the the worst of the bunch. I have seen the most smartest young women with loads of all kinds of talent, literally smooning, begging over and willing to do anything at all for that penniless, dirty, and uneducated thug who does nothing but belittle them, take their money, verbally abuse them, beat the hell out of them. But still these some of ladies can't seem stay away from those guys who beats them badly up out in public and spit on them.
I have heard that some young ladies take up with the bad guys, because they feel that nice guys are not that interesting. Nice guys are boring, no sense of excitement. I have seen gorgeous and radiant young women pleading their cases to these losers guys who soon will kick them in the stomach and throw them out in the cold only for the ladies to wait by the door until he lets them inside again. And if a nice guy comes along, she turns her nose up at him and walks hurriedly away into the arms of someone who wants to do her harm.
Not all women are like this, these losers prey on young nice ladies because they need someone to make them feel superior. They will use constant beatings, threats, drugs, intimidation to keep some of these women terrified of them. Young ladies, it time to wakeup.
George Wilder Jr.
www.amazon.com/author/gwilder
www.shefari.com/gwilder/shelf
www.facebook.com/gwilder
www.twitter.com/gwilder40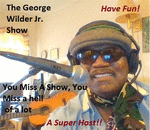 Posted By: George Wilder Jr.
Saturday, July 14th 2012 at 5:57PM
You can also
click here to view all posts by this author...