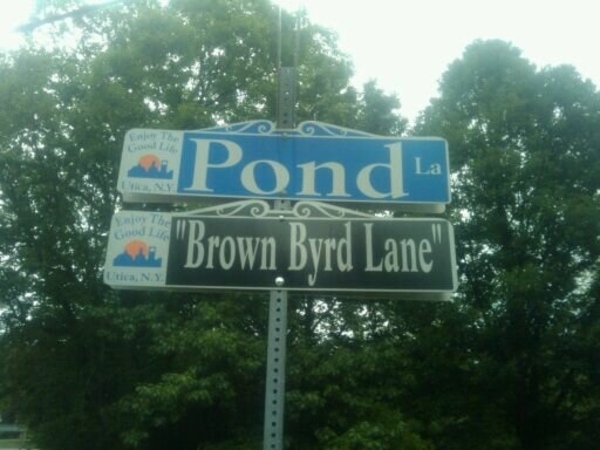 100 Black Men of Long Island Inc. Health and Wellness Chairman
KEVIN BYRD Receives Designated Honorary Street named for Foundations Advocacy
Utica City Department of Legislation:
Sponsored by: Councilmembers Meola, Giruzzi, Vescera, Testa, Marino, McKinsey, Colosimo-Testa, Zecca Bucciero
Resolution
DESIGNATE AN HONORARY STREET for
'KEVIN BYRD'
RESOLVED, That the Common Council does hereby designate an honorary street " Brown Byrd Lane" sign to be placed on both ends of the street below the Pond Lane signs.
Hempstead, New York - 100 Black Men of Long Island Inc. Health and Wellness Chairman KEVIN BYRD Receives Designated Honorary Street named for Foundations Advocacy.
KEVIN BYRD is a God Fearing Multiple Award Winning Entertainer/Global Prostate Cancer Health Advocate who's celebrating his 24th year in entertainment since 1989, at 31 Byrd is a true Super Star. Kevin Byrd is a Prostate Cancer Health Advocate and CEO of his own non for profit foundation called "BrownByrd Prostate Cancer Foundation" since 2003 located on 110 Wall Street, Manhattan, New York. November 7th, 2011 Kevin Byrd was appointed as the new Health & Wellness Chairman of Long Island on behalf the 100 Black Men of Long Island Inc.
Kevin Byrd is the youngest male Prostate Cancer Health Advocate in the U.S; since his grandfather C. J Thomas died of Prostate Cancer at the age of 23 years old, and the youngest Health& Wellness Chairman of Long Island for the 100 Black Men of Long Island since 1974.
Media Accomplishments Kevin Byrd's work has received National and International Media Attention in hundreds of publications (circulating millions of people worldwide) such as Epoch International Times, USA.com Special Media Placement, Newsday, Amsterdam Newspaper, Vibe Magazine, IFlow Magazine, King Magazine, Essence.com, Hush Magazine, Rolling Out, Urban Buzz Magazine, Parle Magazine, New York Beacon, Caribbean Life, New York Times, Hempstead Times, Black Star News etc. Kevin Byrd at 31 is the youngest African American male to have an Honorary Street in New York State (in the 21st Century).
Rolling Out: "Kevin Byrd is one of the most prominent Prostate Cancer Health Advocates in the World"
Kevin Byrd's work in February 2012 (for Black History Month) was honored and entered into the Congressional Record (Library of Congress) on February 2nd, 2012 by House of Representatives Congresswoman Yvette D. Clarke, and recognized his annual Prostate Cancer Awareness Observance Day Globally. Kevin Byrd has been honored by over 100 International Mayors/Government officials across the World and has earned more than 150 PROCLAMATION AWARDS (city state Highest Awards). Kevin Byrd's Home Town in Utica, New York designated a KEVIN BYRD DAY that's honored every October 1st& A KEVIN BYRD DAY in DeKalb County, Georgia for November 2nd with a population of over one Million Citizens.
Kevin Byrd is nationally known for his portrayal as Lt. John R. Fox in the 2006 History/HBO movie "Honor Deferred" produced by Al Roker, starring Samuel Jackson and Bernie Mac. Lt. John R. Fox a WW II hero who killed 100 German Soldiers in the War died in action, and was posthumously awarded the Congressional Medal of Honor five decades after his heroic acts by President Clinton. The documentary picked up an Emmy/NAMIC Vision Award Nomination and garned great reviews. The likeness of Lt. John R. Fox was transformed into a G.I. Joe Action Figure by Hasbro the summer of 2008.
Kevin Byrd in July 2008 starred in the Hit Bollywood Movie premiered on the big screen in India and selected city states in America by Award Winning movie producer/director Manan Kathora called "When Kiran Meets Karen" and Byrd was the only African American Male Actor who starred in the movie; which garnered national great media reviews.
In addition Kevin Byrd starred as the Cover Model for the Best Selling Paperback Novel "Things In Between" by Nathanial Portis whose book is distributed in book stores nationwide including Barnes and Nobles and sold over 100,000 copies World Wide.
Byrd currently is preparing for his Live One Man Show "RELEASE" DVD Recording in August 2012 at the Legendary Nuyorian Poets Cafe hosted by BET Comic View's Comedian Ardie Fuqua. The show depicts the six stages of development of men from the ages of 18 to 65 years old.
BLACKSTAR NEWS, states, "Kevin Byrd gives an Oscar Award worthy Performance of "RELEASE A MUST SEE SHOW"
To get more information and to join Kevin Byrd's Fan Club log on to
www.KevByrd.com
and also now available KEVIN BYRD'S store are over 115 products for purchase at HTTP://WWW.CAFEPRESS.COM/KEVBYRD: Tee-Shirts, Coffee Mugs, Posters, and DVD's! Contact the Brown Byrd Prostate Cancer Foundation 110 Wall Street 11th Floor New York, 10005 or call us @ 212 709-8335 for media interviews and speaking engagements for Kevin Byrd.
Posted By:
Saturday, July 7th 2012 at 6:07PM
You can also
click here to view all posts by this author...