You may have a friend, a person that you may think will always be there. A friend that you thought would never leave your side. Someone that you thought would stick by your side through thick and thin, through hard times and through good times, but when it came right down to the moment when you really truly needed someone you had no one but Jesus. He is the only one that any of us can really rely upon. He is truly the only one that we can depend upon. He said in the word that he would be right by your side until the end of time. So put nothing in man, but put it all in Jesus Christ for he is the one.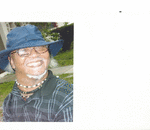 Posted By: david Cook
Monday, July 2nd 2012 at 7:30PM
You can also
click here to view all posts by this author...