I wish that we could live in peace and harmony, together with each other. I know my wishing is all in vain, because the handwriting is on the wall. The world isn't going to get any better, it's only going to get worse. Can't the people see the condition the world is in today? Brothers killing brothers, sisters killing sisters, and hunger is all around us.
Mankind has done it's best to solve the problem of his fellow man. He has made things even worse than they were. Can't you see that Jesus is the only hope for you and me? I don't want no pity, no sympathy, and charity. I just want a chance to see how good I am to develop and master my craft. How can I? You won't give me a chance to prove myself. A person who has talent, must be given the opportunity to develop his talent to the fullest. Oh God, the ones that have made it to the top , seem to have forgotten where they came from. We are all one, some of us may have more than others, but we are still people. Here I am knocking on the door hard, but nobody will let me come in. I will not stop knocking until I get through the door.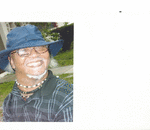 Posted By: david Cook
Monday, July 2nd 2012 at 7:23PM
You can also
click here to view all posts by this author...