Sometimes I wonder do I exist just to be existing? The reason why I question this is because of this young man I knew never done no good. He stole and robbed people and had the general public scared of him. This young man could have been a great asset to his community, if only he had looked at life differently then maybe he would have realized the good, but now it is too late he is dead.
I pray to God,don't let me exist just to be existing, but let my life count; don't let my life be in vein.
For God sake, let me be a vessel for thee.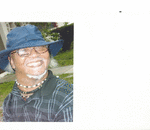 Posted By: david Cook
Tuesday, June 26th 2012 at 8:43PM
You can also
click here to view all posts by this author...