There is a guy that I know and I have grown very fond of this guy. He never seems to have problems, and he never seems to be down. Every time you see him he is always Joyful and have a million dollar smile. This gentleman, no matter how life is treating him he seems to be able to smile back at life. He is a very extraordinary person to me he has a heart so full of love, joy, and laughter. You can see him any where or any place and he will greet you with a warm smile. I was inspired to write this about him, because he has a personality of a godly human being. He's truly one super nice guy I have the pleasure associating with. We drink a little wine and tell a few jokes, and laugh, and laugh like there's no tomorrow. It's a very great honor to have been apart of his company. He is truly a person that the whole world would love to meet. To me he is an embassador of love, joy, happiness and much more.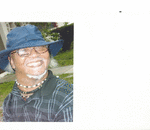 Posted By: david Cook
Friday, June 22nd 2012 at 8:34PM
You can also
click here to view all posts by this author...