JESUS SWEET JESUS,YOU CAME INTO MY LIFE,AND YOU CHANGED MY WHOLE DIRECTION,YOU CHANGED MY LIFE COMPLETELY.YOU GAVE ME HOPE,A MEANING AND A PURPOSE TO GO ON.LORD,I WAS LOST CONFUSED,I HAD NO ONE TO TURN TO.YOU CAME INTO MY LIFE AND YOU CLEANED MY HEART,SOUL,BODY AND MIND.ONCE I WAS ON DRUGS,TRYING TO FIND SOME PIECE OF MIND,LOOKING HERE AND THERE,FOR SOMETHING TO ERASE MY TROUBLED MIND.LORD,YOU GAVE ME SOMETHING THAT I WAS MISSING.LORD,YOU CHANGE MY WAY OF THINKING.LORD,YOU GAVE ME THE WHOLE WORLD SOMETHING THAT I NEVER HAD BEFORE,AND YOU WASHED ME WITH THE BLOOD AND YOU CLEANED MY HEART AND SOUL AND YOU MADE ME WHOLE. LORD I WAS HEADING IN THE ROAD OF DISTRUCTION .MY LIFE WAS FULL OF NOTHING BUT SIN. I WAS SO CONFUSED,I HAD NO PLACE TO TURN TO,BUT YOU CAME INTO MY LIFE AT A TIME WHEN I REALLY NEEDED SOMEONE............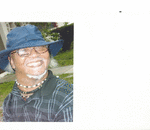 Posted By: david Cook
Friday, June 22nd 2012 at 1:00AM
You can also
click here to view all posts by this author...