How can we live in a system that's so corrupt and evil? and not be corrupt? How can you put angels in a corrupt society? and they not be corrupt? We, as black people have got a long, long way to go. We got to learn the system and how it's ran, and who the ones are that are in charge. One thing we already know and that's who is in control of the government, Satan the devil. For where is all the power at? It's in the highest powerful structure in America... the White House, that's where Satan lives at because that's where the most power is at. It also trickles down to the local government as well. That's where everything starts to go wrong. The local government doesn't treat people right; they lock them up like they are not a part of the American system. They kill them like they are dogs so how can we live in a corrupt society and not be corrupt? How can we not want things in this world when it is there for the taking? I know I don't want to die and not see the good things out of life here on earth. Before I die I want to to see all the good things coming to me but, am I going to have to do some kind of evilness to achieve goodness. Everyone says they got the Holy Ghost, everyone say they are sanctified, everyone say they are Christians but everyone lives in a world of sin. Everyone has sinned against God and against man. Everyone has done wrong and no one is perfect but the father which art in Heaven for we all sinned and done wrong , also they have falling short of the kingdom of God. How can we say we are good without mixing bad and good together, good is the opposite of evil. Without good there would be no evil. Without evil there would be no good.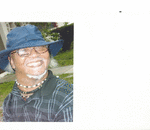 Posted By: david Cook
Thursday, June 21st 2012 at 7:48PM
You can also
click here to view all posts by this author...