We've got to stop criticizing, we've got to stop talking about people, we've got to stop all of the confusion that we have created. Mother, mother we need to come together. Father, father we are killing each other every day, can't you see we don't need to escalate. We need to come together and bring some love this way. Lord knows we go to Sunday school to be taught how to treat our fellow men, but we come out of church and put a knife in the back of our brother. We've got to stop all of the pretending, start living, and enjoying life. When you say I love you, you've got to say it from the bottom of you heart or don't say it at all. Do you know how precious the word love is? It means everything, like family, life consists of the day and the night. All we do is lie down in the night time and get up in the morning time; we start a brand new day all over again that is what life consists of.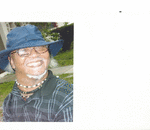 Posted By: david Cook
Friday, June 8th 2012 at 7:14PM
You can also
click here to view all posts by this author...