The 2012 year is half over and I'm still looking for a decent book publisher. I could go still with my previous publisher, however, I will not. They don't seem to care about proper formating, editing or a helping hand in marketing, all they want is to bilk the author for every penny he or she has and they still call themselves a traditional publisher. I write good stuff, it is the people who I trust to do the right thing by the book is disappointing. I want a publisher who cares about the product that they put out there on the market. That is my one of New Years resolution that I'm still trying conquer.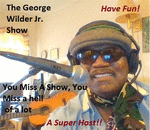 Posted By: George Wilder Jr.
Thursday, May 31st 2012 at 7:12PM
You can also
click here to view all posts by this author...