I was born in the hood and I am going to die in the because I love the hood. There have been lawyer's, doctor's, and school teacher's come out of the hood. So what's wrong with the hood? The only thing that's wrong with hood is that the lawyer's, the doctor's, and the school teacher's didn't come back to the hood and this is unacceptable, because they could have came back into the hood and build the hood up to look more presentable. I use to run like the wind in the hood so free, I use to play with all my friends in the hood, jumping rope, playing marbles, and standing on the street corner singing a song to our near by neighbors passing the street corner in the hood. We had so much fun in the hood but now we are grown and we all went our own separate ways. I never left the hood because I can deal with the hood and all of its problem that comes with the hood. See I love Fort Pierce I am a part of Fort Pierce and it is a part of me and will always be. I love the town with a deep passion although we have so many issues with such as social, racial,jobs, and these are just a few. However, if we can ever come together as one in the hood we can resolve our issues in the hood.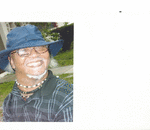 Posted By: david Cook
Tuesday, May 22nd 2012 at 1:35AM
You can also
click here to view all posts by this author...