I wish I could fly away,I wish I could fly away from here.
Is this all to life is Death?
Have satan finally taken over?
There is so much killing all over.
Every where you go.......Death, Death, Death is every where It's calling and calling and calling your name.
Almighty god you are our only help.
For when you slung satan out of heaven you said I have all power in my hands.
For i am the creator the author of all things.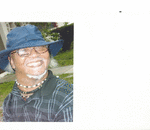 Posted By: david Cook
Friday, January 13th 2012 at 8:16PM
You can also
click here to view all posts by this author...